HIGH-PROFILE EVENTS

Oxford Prospects and Global Development Institute organises and presents a full calendar of events showcasing and connecting prominent figures in all fields including:
Annual roundtables, symposiums and other forums at academic institutions in Oxford and China
Hosting study and research visits to Oxford by academics, entrepreneurs, industry leaders and government representatives from China and other nations
Inviting distinguished scholars to undertake research projects and collaborations with Oxford counterparts.

Assisting researchers and scholars from Oxford to visit higher education institutions in China.

MO YAN INTERNATIONAL WRITING CENTRE
We are privileged to be the home of the Mo Yan International Writing Centre led by Professor Mo Yan, the first Chinese writer to receive a Nobel Prize in Literature.
In 2019, Regent's Park College awarded Mo Yan an Honorary Fellowship in recognition of his contribution to Chinese and world literature. In his acceptance speech, Mo Yan shared his childhood love of drama, recalling how the Chinese dramatist Gao Miomao and English playwright William Shakespeare equally and profoundly influenced his own creations as a novelist. Unveiling the inaugural plaque of his Centre, Mo Yan welcomed renowned Chinese writers Yu Hua and Su Tong as the first Writers-in-Residence.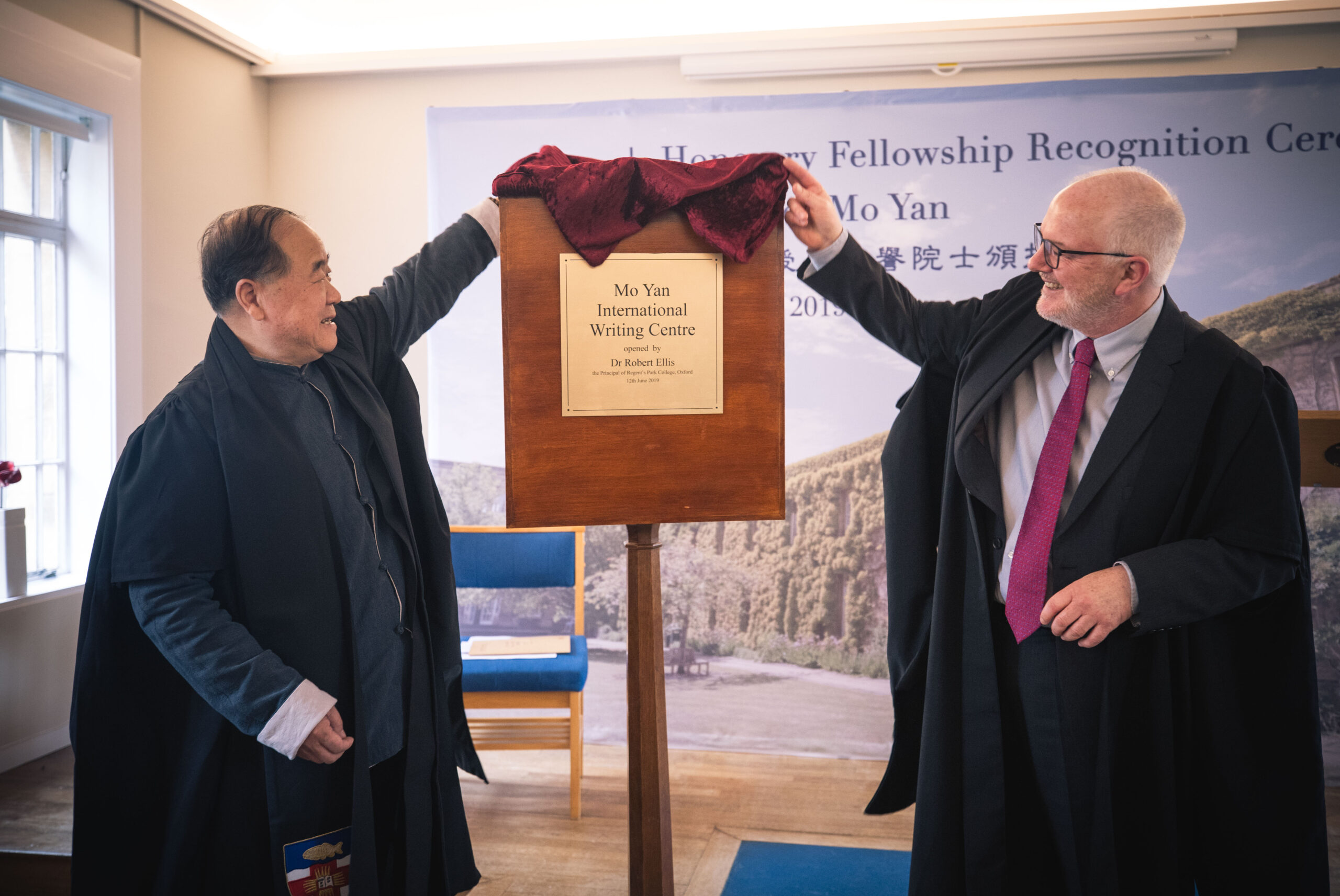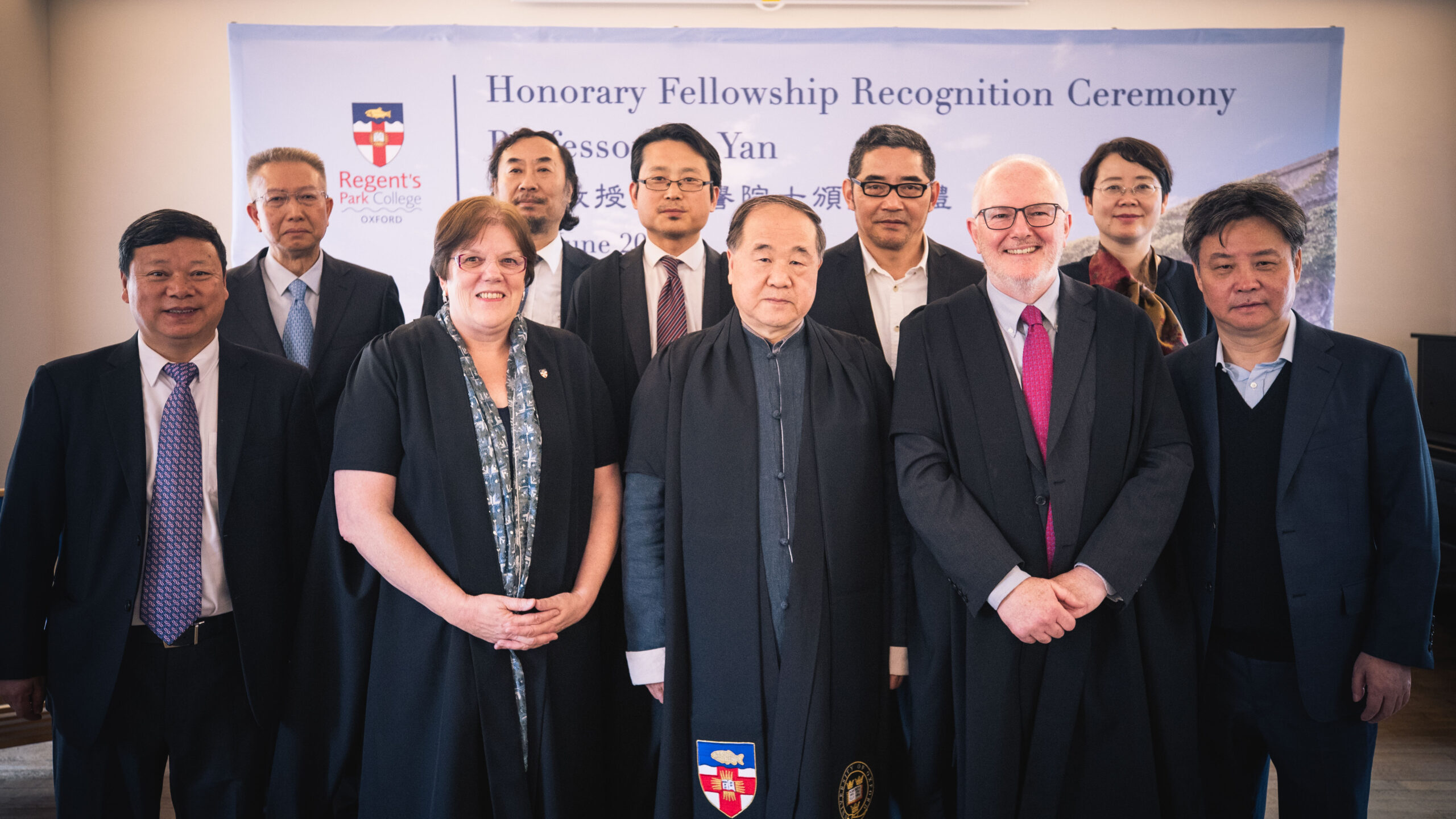 CHINA-UK UNIVERSITIES' PRESIDENTS' ROUNDTABLE (CUUPR)
The China-UK Universities' Presidents' Roundtable has been hosted by OPGDI since 2016 and has become an important platform for university senior leadership to address global challenges and seek solutions in higher education. The Roundtable facilitates networking and international collaboration, with over 20 universities having taken part including Edinburgh, Cardiff, University College London, Tsinghua, Fudan, Beijing Normal, and Jilin.

The 2019 China-UK Universities' Presidents' Roundtable theme was 'Global Challenges, Partnerships and Excellence in World-Class Universities', with in-depth consideration of diversity, overseas research centres and cross-national collaborations. The 2021 Roundtable will address the intensified and emerging challenges of a post-COVID educational landscape.

MODERNISATION OF EDUCATION AND SOCIAL GOVERNANCE SYMPOSIUM
In September 2019, OPGDI organised and hosted the "Modernisation of Education and Social Governance Symposium", in collaboration with the China Academy of Social Management of Beijing Normal University. As part of UK-China Senior People to People Dialogue, the Chinese representation was led by Professor Wei Liqun, a former Secretary of the Communist Party of China Committee and Executive President of the Chinese Academy of Governance.

Attended by over 70 academics and policy makers, the two days of presentations addressed ageing population demography, alleviation of poverty and inequality, educational progress and promise, revitalisation of rural localities, and strengthening of economic performance alongside human welfare. The Symposium showcased researchers from all disciplines and career stages, and in lectures, discussions and conversations over dining, embraced respectful and responsive cross-cultural scholarship and dialogue.

A collection of papers presented at or inspired by the Symposium have since been published as https://www.amazon.co.uk/Modernisation-Education-Governance-Director-Shidong/dp/B08KGN2KRR
DELEGATIONS
Oxford Prospects and Global Development Institute takes pleasure in enabling peer-to-peer visits between Oxford and China. Exchanges in 2019 included Jilin University professors undertaking comparative research in the humanities and social sciences, and CEOs of emerging Chinese companies attending an entrepreneurship programme incorporating the famed Oxford sport of rowing. Additionally, Oxford college management and administrative officers visited universities in Beijing, Xi'an, Guangzhou for sharing and networking in the advancement of cross-cultural higher education initiatives.